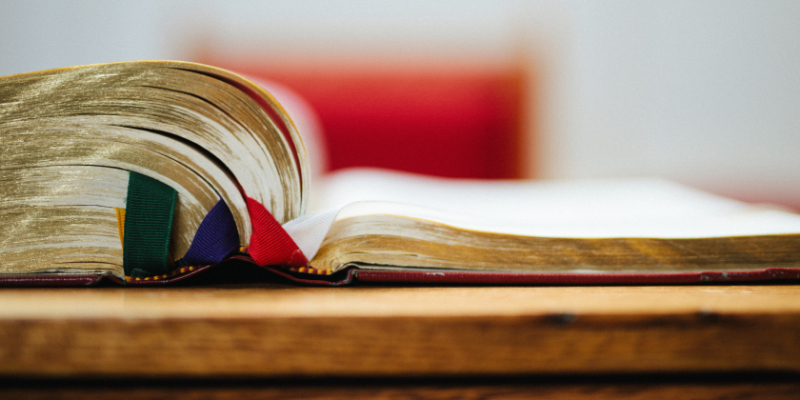 From the Pastor's Desk
Yesterday I was reminded how great our Savior's love is for us! It is personal, palpable, and powerful! (That'll preach!). I was sitting and watching Ben and Jon in their Taekwondo class, surrounded by people, and recounting in my mind the anxious moments of my day and remembered this passage:
Ephesians 2:4-7 says "But God, who is rich in mercy, for his great love wherewith he loved us, Even when we were dead in sins, hath quickened us together with Christ, (by grace ye are saved;) And hath raised [us] up together, and made [us] sit together in heavenly [places] in Christ Jesus: That in the ages to come he might shew the exceeding riches of his grace in [his] kindness toward us through Christ Jesus."
My life is a testimony of these verses. What can be seen from this verse in my life? God's rich mercy? Check. God's great love? Check. Made alive in Christ? Check. Saved by grace? Check! Experiencing the riches of his grace and kindness through Jesus Christ? Check!!


Sometimes when life feels overwhelming, and you find yourself afraid of how things might turn out, it helps to remember the real blessings in your life that can be found in the scriptures. When you trusted Christ as your Savior, your identity was no longer anchored to your failing flesh, but now rooted in Christ!
Just take a moment to consider how loved you are. Then, when the love of Christ has returned your heart to that "peace that passes all understanding," allow it to motivate you to share the gospel with others! If you're not motivated by Christ's love, then maybe you need to spend a bit more time with Him remembering how much He's done for you. It takes effort to lay aside the weights of this world and look unto Jesus, but when we do we can truly experience His love and kindness afresh.

I am praying for you this week and looking forward to our worship together on Sunday.

In Christ,
Bro. Darren
Upcoming Events
Work Day
When
Saturday, May 8th, 10am
Where
1710 West 34th Street
Houston, TX
More information
Get your work clothes on and meet us at the church! We have projects that need some attention! Hope to see you there! Pizza will be provided for lunch.
Mother's Day is May 9th
We will be honoring our mothers on May 9th! Every mom in the service will receive a special gift, and our afternoon service will be dismissed so you can spend time with your families! Mothers were created so uniquely and wonderfully by the LORD. Let's make sure to take time and appreciate all of the mothers in our lives!
Next VBS Meeting May 16th
We will have our next VBS meeting to finalize plans on Sunday, May 16 right after the morning services. Anyone who would like to volunteer for this ministry can talk to Nathan Bragdon and attend this meeting. Pizza will be provided for lunch.
Charitable Helps Offering
The next opportunity to give an offering to our Charitable Helps Ministry is Sunday, May 16th. Please consider donating to this ministry to help those in need.
Master Clubs Award Night is May 26
Come join us as we celebrate all of our Master Clubs students and their accomplishments this year! They have memorized numerous verses and completed lots of projects! Come see what the kids and teachers have been doing on Wednesday nights! We will have our awards ceremony in the auditorium with a short devotional followed by refreshments!
Graduation Sunday is June 6
Join us as we celebrate our graduates for this year! We will have a fellowship after services!
Church Camp is coming June 28-July 2!
We are excited to invite any adults, youth, and children over 10 to join us at Church camp this year! Anyone interested in going needs to get the information from the back of the auditorium, fill out the necessary forms, and let Nathan Bragdon or Melissa Simpson know you are signing up!
We need to know who is planning to go by Sunday, May 30. Can't go and still want to help? You can pray for camp or even provide a scholarship for someone!
Master Clubs Missionary Adventure

Thank you to everyone who picked up a box for this fun new ministry! All of the boxes have been claimed! If you are still interested in serving, but didn't get a box, you can still help! We can always use more hands to help with the games, activities, restrooms, etc.
Bro. Darren and Miss Melissa will be taking the first week of the summer and recording the lesson. If anyone would like to come and watch or see the recording to understand how it COULD be done, you are free to do so!