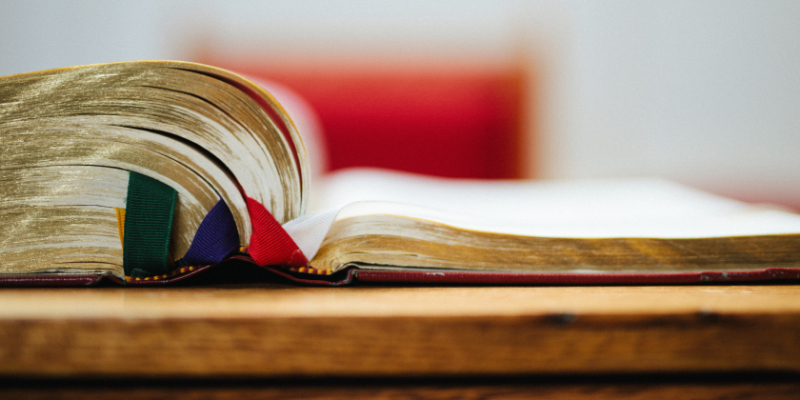 From the Pastor's Desk
Greetings,
How has God blessed you today? I mean today! How often do we sit and consider the blessings of our moment? So often when we consider how we've been blessed, we focus on the "big things" of family, homes, and friendships. But in truth, there is so much to be thankful for beyond this. Every moment is a gift! When you couple this idea with the reality that God chose before the foundations of the world to orchestrate our very salvation, it makes life truly sweet. Ephesians 1 and 2 are some of the most powerful chapters to illustrate the true grand-ness of God's great plan, and how we benefit from it beyond human comprehension. If you don't take time to read Ephesians 1:1-2:10, I would at least take some time to spend with God today and take stock of God's blessings on your life.
I have a few announcements for you this week:
First, please be in prayer for our upcoming summer ministries: Church Camp is June 28-July 2, VBS is two weeks later, and there are other events. These are real opportunities for lives to be changed and for you to have a part in the process. Consider how God might move you to serve, give, or pray.
Second, this Sunday we will be celebrating the graduation of some of our youth into their adult life. We will have a special service to congratulate and encourage them in the afternoon followed by a time of fellowship. Pray for them during this crucial time of transition!
Third, tonight we will begin our new summer ministry for kids on Wednesday nights. Tonight, our Master Clubs kids will be meeting to learn about our missionaries to Spain! Each week there will be a new and different missionary and country to highlight, showcasing for our kids how God intends that the gospel message is to be taken around the world and even to the "uttermost parts of the earth."
Lastly, I would like to share with you that the Simpson family will be going on vacation beginning on Monday, June 14th. We will be traveling on a road trip through several states, and eventually end up at the Ark Encounter in Williamstown, KY! Please pray for Bro. Nathan, Bro. Lester, and others who fill in during my absence. If you have a need while we're away, you're welcome to call Bro. Nathan, Bro. Lester, or the church office; they will know how to get in touch with me in the event of an emergency. Be in prayer for us as we're driving nearly 2,400 miles and this will be our boy's first big vacation. (Pray for mom and dad too!) We will be back at home on June 25th to prepare for church camp!
Thank you for being such a sweet and easy people to Pastor. Your kindness and sweet spirit shows through in so many ways. I pray you'll come tonight to our Wednesday Night Bible study led by Bro. Nathan. I know he has something thought provoking prepared.
Have a good day!
Bro. Darren
Sneak Peek for Tonight's Missionary Adventure - we're going to Spain!

Upcoming Events
Master Clubs Missionary Adventure
This summer, our kids are going on a Missionary Adventure! Each Wednesday night at 7PM starting June 2 and ending September 1, our kids will enjoy learning about countries that we support missionaries in! They will try some new food, play cultural games, write letters to missionaries, and more! We are going to have so much fun!

Thank you to everyone who picked up a box for this fun new ministry! All of the boxes have been claimed! If you are still interested in serving, but didn't get a box, you can still help! We can always use more hands to help with the games, activities, restrooms, etc.
Bro. Darren and Miss Melissa will be taking the first week of the summer and recording the lesson. If anyone would like to come and watch or see the recording to understand how it COULD be done, you are free to do so!
To see the schedule click here.
Graduation Sunday is June 6
Join us as we celebrate our graduates for this year! There will be a Baccalaureate Service in place of the regular afternoon service followed by refreshments in the Fellowship Hall. We are celebrating Amber Nussberger and Tristan Neal!
Promotion Sunday is June 13
We have several students promoting to a new class! All of our

promoting students will receive a gift during Sunday School on this special Sunday! Make sure to attend!
Father's Day is June 20
We will celebrate all of our incredible fathers on this special Sunday! We will have a special gift for all who attend. Afternoon services will be dismissed to allow time to be with your family!
Church Camp is June 28-July 2!
Church camp is going to be a blast this year as we learn and think about "What's Next?" Please be in prayer for our campers, leaders, musicians, teachers, and camp evangelists. Many lives are touched by this every year. If you would like to help out, please consider offering a scholarship or monetary donation to help someone go to camp.

VBS is July 12-16
We are so excited to go on an "Incredible Race" to learn about the human race and what that means in the Bible. If you would still like to volunteer, talk to Bro. Nathan Bragdon. You can also help by praying for VBS, buying things from our Amazon Wishlist (click here to view - we are still updating this list), or helping us decorate and prepare materials. You can also share information about our VBS with those you know. Any help is appreciated!
You can also bring people to VBS! We are taking children ages 4 years old to children entering 6th grade. You can even pre-register them on the website or by clicking here! You can also copy the image to the left to share with others!